Caraveli thick choker
Thick alpaca wool choker with fleece lining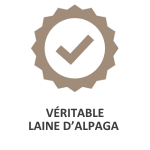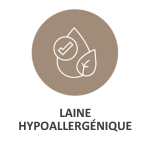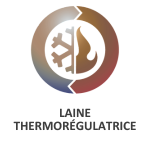 Thick necklace
Derived from the traditional scarf, the thick choker forms a tube, also called snood or tube scarf. Elegant and modern. Made from very warm alpaca wool and a very soft fleece lining, this thick choker is a perfect ally for winter. Perfect protection against the cold.
No more drafts, frayed scarves or falling off. Thick chokers are quick to put on and offer a different style than scarves, but are just as fashionable. The choker also has another big advantage. When it starts to rain, you can simply pull it over your head and wear it like a hood. A useful trick if you forget your umbrella and don't want to get your hair wet.
Neckwraps are not only practical, but more importantly, they are very wraparound. Take advantage of the wide range of scarves and chokers that La Maison de l'Alpaga offers by varying your pleasure according to the seasons and outfits. Winter models are offered with hats and gloves. For a complete and coveted outfit, don't hesitate to associate the thick choker with a beret or a nice alpaca wool cap.
At La Maison de l'Alpaga, we use high quality alpaca wool from Peru for our thick choker. This wool has many amazing properties. Discover quickly this wool with multiple properties
- 70% Alpaca and 30% Acrylic
- Length: 29 cm and Height: 35 cm
- Made in Peru

The combination of the Alpaca wool which is very warm and the fleece lining which is an excellent windbreaker makes this choker your best ally against the wind and the cold by bringing you a complete protection.
Try a quality wool, 100% natural and thermoregulatory, the Alpaca wool !
Data sheet
Our more products

Alpaca wool
Hypoallergenic
Thermoregulatory wool

Composition

40-90% Alpaca
No customer reviews for the moment.
Related Products
(There are 15 other products in the same category)