Ceole soft scarf
Black knitted alpaca wool scarf with colorful stripes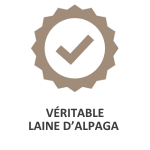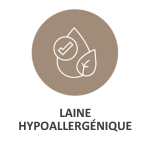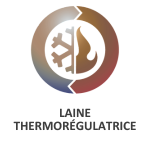 Soft scarf
We present here asoft scarf model, it is even one of the softest in our collection. Alpaca wool is known for its extreme softness and comfort when worn. However, there are ways to work it that make it even softer. This is the case for this soft scarf that has been hand knitted
The quality of the alpaca fleece makes the quality of the wool and thus the final product. It is the story of life, the more the alpaca will be well treated, well fed and its fleece well shorn, the more the wool will be of good quality. That's why one of our commitments is to respect the animals. To let them live in their natural habitat in semi-liberty is very important for them to live in peace and without stress in a place and a region that they know and that is made for them
Our soft alpaca wool scarf is very comfortable to wear around the neck. It was designed by local artisans who specialize in alpaca wool. It is a unique model, however the stripes on the bottom of the scarf are never the same, if you choose a red gradient the gradient will never be the same on two models. The dominant color will remain the same but the gradient may change slightly from one model to another. This is also what crafting is all about. Having a unique model just for you. You will be the only one to wear our soft scarf because they are unique models.

- 70% Alpaca and 30% Acrylic
- Length: 190 cm and Width: 19 cm (excluding bangs
- Made in Peru

Try a quality wool, 100% natural and thermoregulating, the Alpaca wool!
Non-contractual pictures
Data sheet
Our more products

Alpaca wool
Hypoallergenic
Thermoregulatory wool

Composition

40-90% Alpaca
No customer reviews for the moment.
Related Products
(There are 15 other products in the same category)