Wool alpaca sweater Rodrigo
Thick alpaca wool sweater with two-tone trucker neck
Shipping from our warehouse in France within 24/48 working hours
Delivery via Colissimo home or to a relay point (with or without signature) within 48 working hours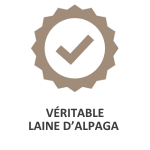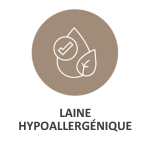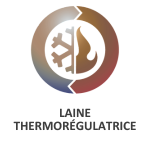 Alpaca wool
The ecological alpaca wool fashion collections for women, men and children are handmade from Peruvian alpaca wool. Only designed with alpaca wool collected and processed in the Andes region of Peru our clothes are of very high quality. Unfortunately, there are more and more garments on the market that bear the name alpaca wool and contain little or no Peruvian alpaca wool, so we take this very seriously. Natural alpaca is marketed as alpaca wool. We also believe that real alpaca wool should come from the Andes. Although alpaca is now bred in some European countries, alpaca wool does not have the same quality characteristics as real alpaca wool from Peru
It is like an exotic fruit grown in Europe for many years. Some of the cheapest and easiest to find garments called "alpaca wool" are not really alpaca wool, or are inevitably of different quality.
Real Peruvian alpaca wool is 100% natural and of high quality, which means that it can be processed in many different ways. It can be knitted, woven or embroidered. Some brands sell alpaca wool garments that are made of only 5% alpaca wool and 95% synthetic wool. Do you really think this product will meet your expectations?
Alpaca wool is an excellent fiber because it retains its natural characteristics. Real alpaca wool, extremely warm and resistant.

- Thick bi-color zip neck sweater
- 70% Alpaca and 30% Acrylic
- Made in Peru


Data sheet
Our more products

Alpaca wool
Hypoallergenic
Thermoregulatory wool

Composition

40-90% Alpaca
No customer reviews for the moment.
Related Products
(There are 12 other products in the same category)